Helen Pankhurst
Women's Rights Activist and Senior Advisor to CARE International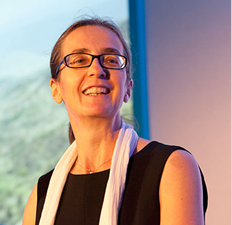 Helen Pankhurst is a women's rights activist and senior advisor to CARE International, based in the UK and in Ethiopia where she grew up and continues to spend half her time. Previously she worked for international development charities including WaterAid, Womankind Worldwide and ACORD. She is a Trustee of ActionAid and WSUP.
In the UK Helen is also a public speaker and writer. She has taken part in re-enactment work for current day awareness raising including the 2012 Opening of the London Olympics, in the 2015 film Suffragette and leading the annual #March4Women International Women's Day marches in London.
In 2018, her book Deeds not Words, the Story of Women's Rights, Then and Now, is being published by Sceptre.
Helen studied at Sussex University, Vassar College and Edinburgh University, has an honorary degree from Edge Hill University, is a Visiting Senior Fellow at LSE and Visiting Professor at MMU.
Helen is the great-granddaughter of Emmeline Pankhurst and granddaughter of Sylvia Pankhurst, leaders of the British suffragette movement.  She is involved in commemorations including Manchester's Our Emmeline statue, the Pankhurst Centre initiatives, is a Patron of the Friends of the Sophia Goulden Society and the Sylvia Pankhurst Memorial Committee.
@helenPankhurst
Photography (c) WaterAid/Georgie Scott